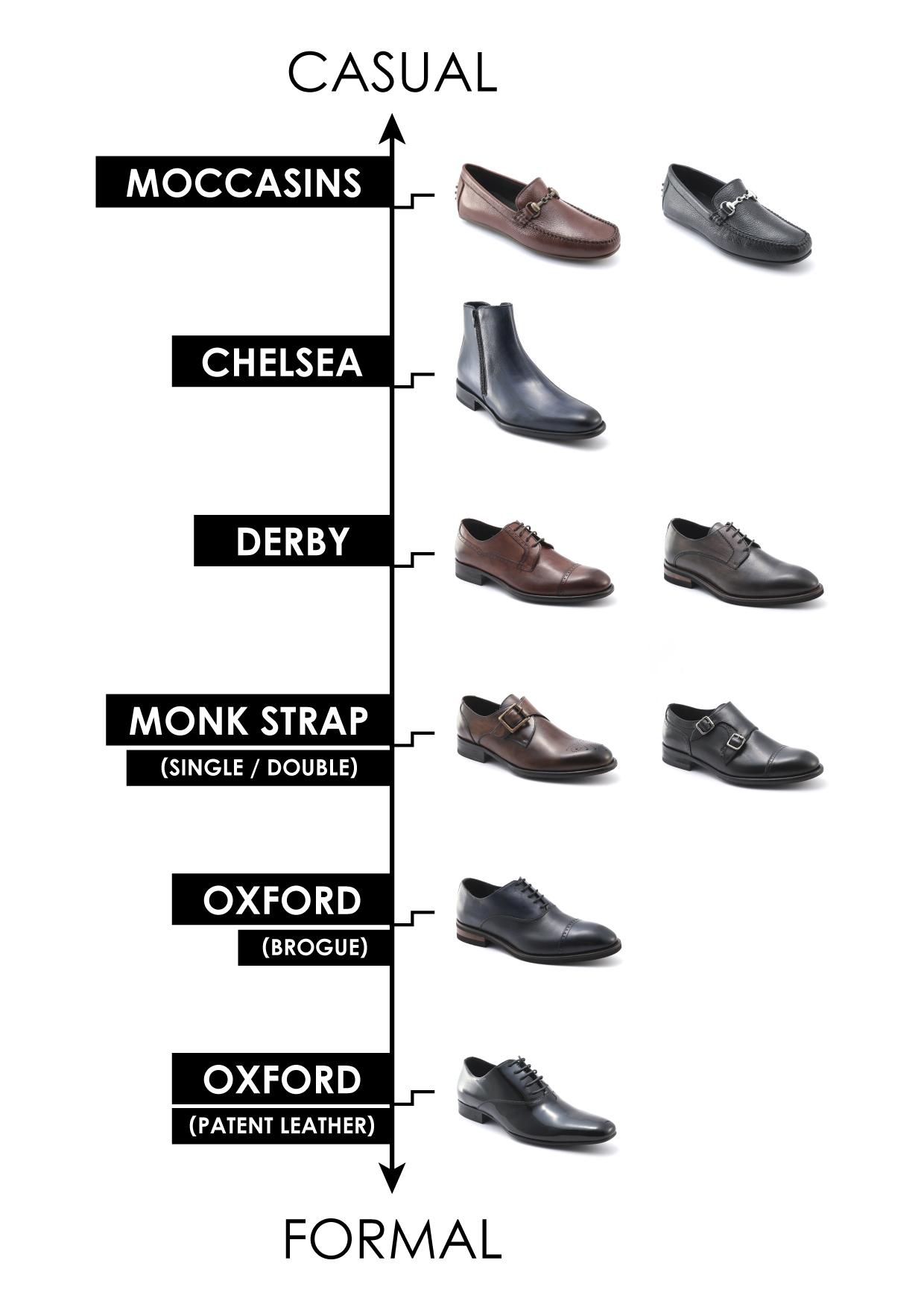 There is a handful of shoes that a man must own so he can dress appropriate for any occassions. From casual to formal, we will break them down for you.
Moccasins/ Loafers are intended for outdoor use with casual outfit, moccasins are versatile, and extremely easy to match with. A plain t-shirt, polo and a pair of chinos, voila, here is your weekend look.
Derbies feature an open lace, with eyelet tabs sewn on top of the upper flap, separated from the vamp. Considered to be more casual than oxford, these shoes are the perfect day-to-day work wear. Think wearing jeans and shirt with a blazer.
Oxfords can be identified with their closed lacing. are generally used for formal occasions. This shoe is the quintessential formal shoe; think black tie events and weddings.
Monkstraps are tied using a buckle or two and straps
A bit of an outlier, a pair of monkstrap can match with your work engagements, both day and night.
Chelsea boots are defined by two important details: an ankle-hitting height and an upper constructed from two pieces of leather. It is the absolute versatile option in today's style dictionary. Whether it is worn with your favorite washed jeans or your killer new suit, you will look stylish and classy.
紳士必須要知五大鞋款
Moccasins在休閒時刻,是最簡單無誤的搭配:T恤,polo, 配 Chinos或短褲絕對也是清爽的搭配推薦。
Derby 鞋以兩片鞋翼與鞋面縫合,形成開放式鞋翼Open Lacing 。德比鞋是較休閒的鞋款,適合一般上班穿著。
牛津鞋是以封閉式鞋襟記認, 亦是一般隆重場合必備之選。
Monk鞋最大特色在於鞋面上有一個寬大的橫向帶裝飾及金屬環扣。時下最常見的多為兩個鞋扣,即Double monk;單扣的叫Single monk這種獨特的搭帶設計,適合多種場合穿著,
Chelsea鞋身高於足踝,並以兩側的彈性鬆緊帶或拉鍊緊繫足踝,可配襯正裝或休閒服飾。